Snoopy Says Don't Give Up!
When you are an approved affiliate advertiser do you sometimes feel like all you do is hunt down broken links or links that have been deactivated to either remove or replace them?
Perhaps not you. Maybe you choose the right vendors who have been in business since the invention of the Internet, so you're like the wise man who built his house on the rock . You never have to fix anything!
That's not the case with me. Had just gotten used to the program for AllPosters . Love their art posters. Guess what they did? Shut down their program. Makes you wanna cry like a baby! It's times like these when it's really good to have some Snoopy support!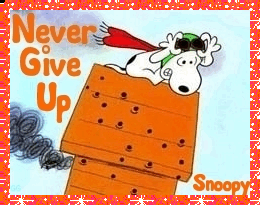 Snoopy image credit: glitter-graphics.com
Fortunately they will be working with another organization and my new account has been approved. Unfortunately all of the links and banners placed at my various websites, blogs and articles have to updated.
Sound like fun, huh?
Yep. Gonna be really busy for the next few days.
* * *
---
Image Credit
» https://pixabay.com/en/baby-newborn-tears-sad-cry-scream-408262/ by TaniaVdB
---