Anyone on Fiverr?
I HAVE JUST joined the market site Fiverr. For those who haven't heard of it or maybe don't know what it is or what it does FIVERR is an online marketplace offering a range of services, beginning at a cost of $5 a time (hence its name).
The site is primarily used by freelancers who use Fiverr to offer an amazing range of online services. You name it and you can probably find someone on Fiverr who is offering to do it - everything from article writing for your blog to being your virtual personal assistant.
Now I don't want to be accused of using Persona Paper to promote my Fiverr Gig (that's what the services are called) so I'm not going to say what it is I am offering to do for $5 nor will I say what my name on that site is (it isn't Kasman ).
My gig has been live for only three days and so far there have been a good number of views to it (there is a dashboard which shows such information) but no orders. I realise that it may take some time to become known but I think I have found a good niche for myself. As far as I have been able to ascertain no-one else is offering gigs similar to mine!
I do realise that a specialist niche is both a good and a bad thing in that the market will be limited but since I am the only one offering this particular service with a little luck it will be a success. I am currently working on a video presentation to add to my profile there - apparently this helps with attracting orders.
What I am seeking from anyone here who is familiar with Fiverr is a little advice: What are the best places/ways to promote my gig and does anyone have any tips for me?
INTERESTING FACT: Did you know that the Harry Potter series were the most banned books of the century in the USA?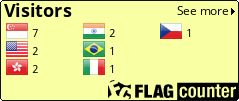 ---
Image Credit
» by Kasman via Microsoft Paint
---